SERPONG, ULTIMAGZ.com — DAY6 Even of Day berhasil mengadakan online party night bertajuk 'The Arcane Salon' pada Minggu (24/01/21). Pesta daring tersebut dimulai pukul 17.00 KST atau 15.00 WIB dan dapat diakses oleh para pemegang tiket melalui platform V App.
Sebelumnya, 'The Arcane Salon' sempat beberapa kali mengalami perubahan jadwal. 'The Arcane Salon' rencananya diadakan pada Minggu (27/12/20). JYP Entertainment, agensi yang menaungi DAY6 pertama kali menginformasikannya melalui akun Twitter resmi DAY6 pada Senin (30/11/20). Seiring bertambahnya jumlah kasus terkonfirmasi COVID-19, pesta daring yang semula akan dilaksanakan mulai pukul 20.00 KST diubah menjadi pukul 17.00 KST atau 15.00 WIB.
Pada Senin (21/12/20), perubahan jadwal kembali terjadi yaitu pengunduran sampai waktu yang pada saat itu belum ditentukan. Terhitung dua pekan setelahnya, JYP Entertainment kembali mengumumkan bahwa 'The Arcane Salon' akan segera digelar pada Minggu (24/01/21).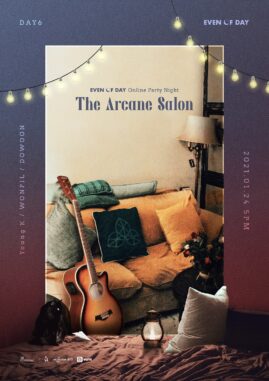 Baca juga: Day6 Rilis Trailer Comeback untuk Album ke-4 "The Book of Us: The Demon"
Diketahui, Even of Day merilis album debut "The Book of Us : Gluon – Nothing can tear us apart" pada Agustus 2020 lalu. Pada kesempatan kali ini, sub-unit pertama DAY6 ini menampilkan total 19 lagu, 3 di antaranya berasal dari album debut mereka.
Perilisan album tersebut menandai dimulainya aktivitas ketiga anggota DAY6 yaitu Young K, Wonpil, dan Dowoon di bawah nama Even of Day setelah dua anggota lainnya memutuskan untuk vakum sejenak dari dunia hiburan pada Mei 2020.
Penulis: Veronica Novaria
Editor: Andi Annisa Ivana Putri
Sumber: JYP Entertaiment
Foto: Twitter